Funded
Daily payout processing
Payouts requested before 12PM EST on weekdays (excluding holidays) will be processed on the same day. Transfer times usually take 1-3 business days.
No minimum days for payouts
There are NO minimum days to trade to request payout in your Brokerage account. You just need to reach the point of profit where your account moves from BluLive to the Brokerage.

You will be funded in a live brokerage account after BluLive, so all the profits you make in it are real and we're happy to send them to you. It's also how we scale our business.
Payouts in Brokerage account
Min withdraw amount: $250
Max withdraw amount: No limits

Please be reasonable when withdrawing so you leave enough drawdown to continue trading. If you are just creating accounts to immediately close them, we may decline your application of future evaluations.
| | |
| --- | --- |
| Account Size | Minimum balance |
| $25,000 | $25,300 |
| $50,000 | $51,000 |
| $100,000 | $101,000 |
Formally, the safety buffer (the $300 to $1000 amount below the minimum balance) is not available to the trader.

But if you continue to trade with us and withdraw consistently, it would be available to you if you close your account down the road.
Profit Sharing
Our business model is focused on retaining successful traders. The more you make, the more of that profit you get to keep.
| Account lifetime profit payouts | Percentage of profit for trader |
| --- | --- |
| 0 - $20,000 | 80% |
| $20,000 - $50,000 | 85% |
| $50,000+ | 90% |
| $100,000+ | Custom offer |
Payment processing
Direct ACH/Wire/PayPal is used for payouts.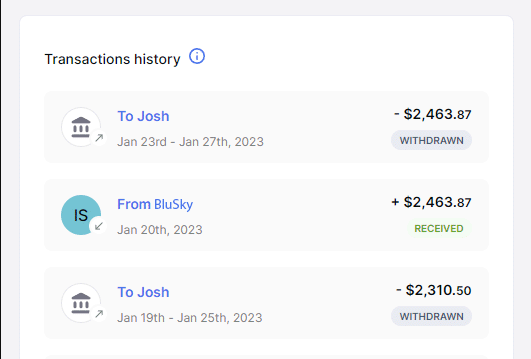 Taxes
You will be paid as an individual contractor.
Non-US citizens must submit a W-8BEN on first payout. No reports are sent for Non-US citizens.
For any tax advice, consult with your accountant.
BluSky Trading reserves the right to payout the trader at any time and under any circumstances.